White series EVA film
F806W
Product introduction
F•RST® F806W EVA is a white encapsulant specifically designed for the backside encapsulation of normal PV modules and double-glass PV modules. It is used between cells and rear materials.
F•RST® F806W EVA is characterized as highly reflective. Its unique optical property can increase the effective utilization of light ultimately enhancing the power output of PV modules. F806W EVA also provides a solution for white overflow appearance issues in processing of modules.
Product application and the path of light in the module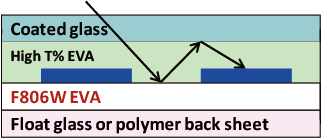 Performance parameter
Properties
Test Method
Units
F806W
General gram weight
FST Method
g/m2
430±20
Thickness
FST Method
mm
0.55±0.05
Length
FST Method
m/roll
150
Width
FST Method
mm
Customization0/+7
Melting range
FST Method
℃
40-80
Shrinkage Rate(120

℃

,3min)

GB/T29848
MD%
<5.0
TD%
<2.0
UV-Cutoff Wavelength
FST Method
nm
370
Reflectance
1100nm-380nm
GB/T29848
%
≥90
380nm-290nm
%
<10
Gel content
GB/T29848
Gel%
>75
Volume Resistivity
GB/T29848
Ω·cm
>1.0×1014
Strength of Peeling from Glass
GB/T29848
N/cm
>60
Strength of Peeling from TPT
GB/T29848
N/cm
>40
Note: The gram weight, thickness, length and width of product can be customized.

Top